For almost a 1,000 years, Jews have been living in Poland side by side with their Catholic neighbors. By the 1930s the community numbered more than three million, the largest in Europe. Poland was then a multi-ethnic society with large numbers of Ukrainians, Belarusians, Jews and Germans. That society was destroyed during World War II.
Poland has struggled with its image of being a Jewish graveyard in Eastern Europe. The Germans murdered 90% of Polish Jews during the Holocaust. At the end of the war Poland's allies, the Soviet Union, the United States, and Great Britain decided to shift the country's boundaries westwards, forming a homogenous Catholic country governed by a Communist system imposed from the outside by the Soviet Union.
"Due to the lack of central authority in Poland just after the war there were gangs of Poles who were killing Jews in the couple of years just after the war. Horrible, horrible murders, 1,500, 2,000 people. It made a huge spiritual and psychological impact saying, you know, we're still not safe and so people said, either I leave and if I don't leave Poland I leave Judaism," Rabbi Michael Schudrich told BBC News.
Thousands of Holocaust survivors chose to leave, emigrating to Israel or the United States. Jews who stayed were often Communists who believed in the power of the system to transform the country. But anti-Semitism was also used as a tool by the Communist authorities. More than 20,000 Jews left Poland after an anti-Zionist purge led by the Politburo in 1968. Now, it's estimated there are just 20,000 people at most with Jewish roots left in Poland.
Since 1989 there has been a gradual reawakening of interest in Poland's Jewish history and culture. Now there is a large annual Jewish festival in Krakow that attracts thousands of international visitors, as well as Jewish film and literature festivals.
With the increased interest in Jewish Heritage in Poland, European Jewish Heritage Tours has crafted a successful private customized tour for visitors, which can be arranged either with kosher or non-kosher meals. Naturally, this tour can be adapted to your travel schedule, and can include as many stops as you want.
Day One: Arrival in Warsaw
European Jewish Heritage Tours can arrange a private transfer to your hotel with a private van with guide and driver either from the airport or the train station. After check-in and rest, you can take a guided tour of the city that rose like a phoenix from the ashes—90% destroyed by the Nazis, but painstakingly rebuilt by the Polish government in the 1950s. Your tour starts along Warsaw's oldest street—the Royal Way, lined with palaces and stunning gardens.
POLIN Museum of the History of Polish Jews (Polish: Muzeum Historii Żydów Polskich) is a museum on the site of the former Warsaw Ghetto. The Hebrew word Polin in the museum's name means, in English, either "Poland" or "rest here" and is related to a legend on the arrival of the first Jews in Poland. The cornerstone was laid in 2007, and the museum was first opened on April 19, 2013. The museum's Core Exhibition opened in October 2014. The museum features a multimedia narrative exhibition about the vibrant Jewish community that flourished in Poland for a thousand years up to the Holocaust.
Then you will walk through Warsaw's Old Town to visit the Museum of Warsaw, where you can see a unique documentary (seized from the Nazis) about the massive destruction of the city. You will then visit the former Ghetto area, annihilated by the Nazis after the Ghetto Uprising in 1943. You will see a small section of original ghetto wall that survived and stop at the Monument of Heroes of the Ghetto as well as by Umschlag Platz—from which some half a million Warsaw Jews were transported to concentration camps. This visit can be combined with a visit to Warsaw's magnificent National Museum in Warsaw one of the largest museums in Poland. Totally modernized and reorganized in 2012, its holdings include a rich collection of ancient art (Egyptian, Greek, Roman), an extensive gallery of Polish painting since the 16th century and a collection of foreign paintings (Italian, French, Flemish, Dutch, German and Russian) including some paintings from Adolf Hitler's private collection ceded to the Museum by the American authorities in post-war Germany.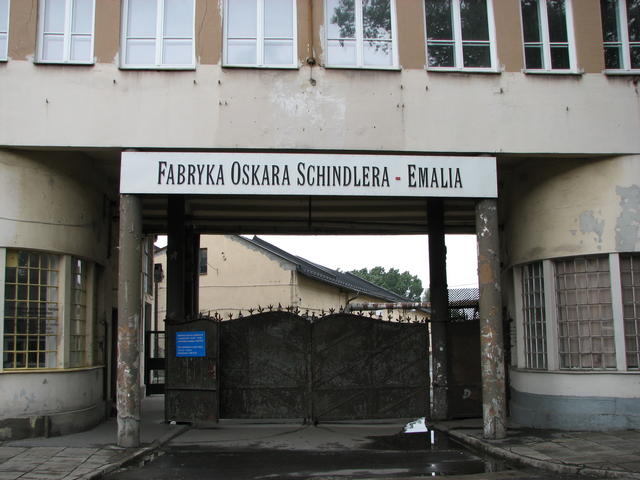 After breakfast, European Jewish Heritage Tours will arrange a private chauffeured car to take you to the train station, and arrange train tickets for the three-hour first-class trip to Cracow with lunch on the train. This gorgeous Medieval city miraculously survived World War Two. Upon arrival you will be met by a private car and local guide, arranged by European Jewish Heritage Tours.
Kazimierz–the district south of the Old Town between the Wisła River and the Dietla (where a tributary of the Wisła once flowed) was the center of Jewish life in Kraków for over 500 years, before it was systematically destroyed during World War II. Under Communism it became one of Kraków's riskiest districts while gradually falling into disrepair. Rediscovered in the 1990s, after the fall of Communism and worldwide exposure through the lens of Steven Spielberg, Kazimierz has since been on the rebound and is today Kraków's most exciting district – a bustling, bohemian neighborhood packed with historical sites, atmospheric cafes and art galleries. Well-known for its associations with Oskar Schindler and Spielberg, traces of Kazimierz's Jewish history have not only survived, but literally abound in the form of the district's numerous synagogues and Jewish cemeteries. In fact, no other place in Europe conveys a sense of pre-war Jewish culture on the continent better than Kazimierz. As a result, the district has become a major tourist draw and could almost be considered a pilgrimage site for Jews, which has led to the return of contemporary Jewish culture in the area in recent decades. Each summer since 1988 the massively popular Jewish Culture Festival has filled Kazimierz's streets and cafes with music, while educating Kraków's residents and guests about the city's pre-war Jewish history and celebrating modern Jewish culture.
European Jewish Heritage Tours will arrange for your first stop to be the Jewish area of Kracow—Kaziemierz. During your visit, you will see the oldest but still functioning synagogue and cemetery from the 16th century, and walk along the paths where for hundreds of years a very vibrant Jewish community used to live. This is also the place where the movie Schindler's List was filmed. You will also discover the beautifully restored Moorish-style Reform synagogue.
You will then drive to the former Ghetto area across the river, where you will visit the former factory of Oscar Schindler. There is an excellent museum dedicated to Kracow's Jews that you can also visit, as well as the very moving monument dedicated to the perished Jewish community titled "Empty Chairs."
If you still have stamina left you can take a ride with our private driver to Wieliczka Salt Mine—one of the wonders of the world. When UNESCO published its first list of World Heritage in 1970—this site was already on it. A dazzling underground wonderland, where everything: floors, walls, sculptures, carvings, chandeliers are made out of dazzling salt. A must-see, but do bring sunglasses!
Day Three: Auschwitz,

K

racow
Today our private driver will take you to visit Auschwitz Birkenau. (This is a 90-minute trip each way). You will then have a private guided visit of the world's most terrifying concentration camp. Following lunch you will return to Kracow around 3 pm.
You can then continue our guided private tour of Kracow: you will walk along the Royal Way, where for hundreds of years Polish Royalty arrived into the city. Kracow was once the capital of a mighty kingdom—in the 1600s, Poland stretched from the Baltic to the Black Sea. Here you will discover the 13th century entrance gates, magnificent houses and palaces of the nobility, and most important of all, visit the Royal Castle, from which this kingdom was ruled for five centuries. Amid Renaissance decor and furniture, you have the chance to admire the castle's principal treasure—a collection of a hundred tapestries, woven in linen, silver and gold in the 15th century.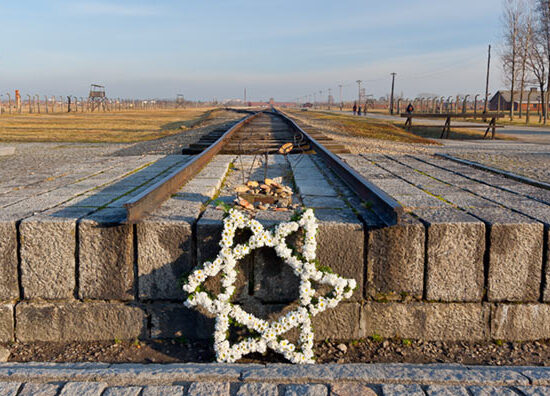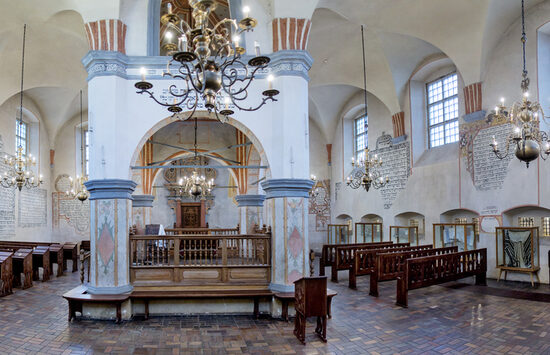 Day Four:

Tykocin

Schtetl
European Jewish Heritage Tours will arrange a transfer and an early morning train back to Warsaw. You will met at the train station by your private guide and driver and venture north—to the most beautifully preserved schtetl of Tykocin (Tiktin in Yiddish). This village looks as it did in the 18th and 19th centuries, when the majority of its inhabitants were Jewish. It has one of the oldest and most beautifully preserved synagogues in Poland.
On the way back, you have the option to visit the sight of one of the most horrific Nazi death camps—Treblinka. It was a place created exclusively for murdering Jewish people—some 900,000 of Jewish people of Warsaw and north-eastern Poland lost their lives there. It is a horrifying place to visit—but one that needs to be seen—and never forgotten.